25 May

Micro-Market Installation an Ideal Solution for Vancouver Client

Installing a micro-market in your break room can be beneficial for both employees and the employer as our Vancouver client recently learned.  Our client, Tap in Payments, approached us because they felt that they needed to refresh their break room.  It turns out that their office is located in an industrial area of town with zero options for employees to get tasty snacks, nutritious lunches, or refreshing beverages. As a result, our solution was to install a custom micro-market for their break room. Our micro-market solution is a great option for many of our clients who are looking to upgrade from traditional vending machine services.
Customer-First Approach
We met with the Tap In Payments team to understand their challenges and requirements.  This meeting helped us on many fronts. First, it allowed us to evaluate the break room and design the market to fit the space. Second, it helped us determine how we were going to customize the micro-market to meet their unique needs. And, third, it helped to set expectations for the client.
Installing a Vancouver Micro-Market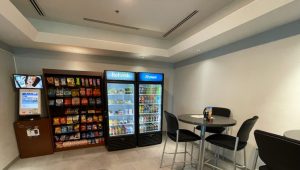 Our team arrived on the big day to install the micro-market.  During the install, we were quick and efficient to avoid disrupting the office and employees. The team installed the shelves, racks, and coolers so the micro-market looked seamless within the space. We also installed a secure self-checkout kiosk so employees could pay for products using a credit card or mobile phone. This provided a hassle-free check-out experience. After that, the market was stocked with a variety of products that the client had requested. In addition, we also installed cameras to monitor the space 24/7.  Most importantly, as part of our customer-first approach, we walked the employees through the space to familiarize them with how to use the micro-market. For instance, employees were delighted to learn that Royal ReFresh has a program in place to earn credits towards their micro-market accounts.
A Satisfied Client in Vancouver
"I have had staff tell me that they love the new market and that it shows that management actually cares. The selection of foods and snacks is perfect for our team as well. Royal ReFresh's micro-market is an outstanding addition to our break room and really makes a difference in our team's productivity" said Charles Mann, VP of Sales at Tap In Payments.
Micro-Market is a Win-Win for Everyone
As Tap in Payments learned, a micro-market in the break room can have many benefits.
Employees stay in the office for refreshments leading to increased productivity
Offers easy access to a variety of convenient grab-and-go options
Boosts office morale
Increases collaboration, idea sharing, and innovation within the office
Improves workplace satisfaction because employees see that the company supports diverse dietary needs
Supports employees health and wellness goals by offering healthy products
Open 24/7 giving employees access to products no matter which shifts they work
In short, a Vancouver micro-market was the ideal solution for Tap in Payments. The employees were pleased with the new market. The client was happy to have found a perfect solution for the employees. Who knows, perhaps we'll have a chance to introduce them to our custom office coffee services in the future.
For more information about our break room services, including micro-markets, office coffee services, vending, or national vending, please contact Royal ReFresh at (503) 704-9759 or info@royalvendingnw.com. We look forward to hearing from you.