15 Dec

Reflecting on 2021 and looking ahead

We are in the holiday season and 2022 is just around the corner. Therefore, we thought this is the perfect time to reflect on our 2021 achievements and share our goals for the coming year.  We believe in writing down accomplishments and goals that we want to achieve. In fact, we think you should write down yours as well. In other words, writing them down will make them "feel" more real and attainable.
Our 2021 Accomplishments
We had many accomplishments throughout the year but there are three we want to share.
A brand overhaul
Royal ReFresh rebranded in early 2021 with a new name, and two new logos — one for the overall brand and one for the company's micro-markets. The rebrand reflects the love for the vending business and the focus on growth.  Ryan Harrington, Founder, and CEO of Royal ReFresh said it best in a press release early this year.
"We are passionate about the vending business and it shows in our
growth. We remain focused on service and providing our clients with the best
experience."
2021 Inc. 5000 list – 4th year in a row!
We were thrilled to make the 2021 Inc. 5000 list of fastest-growing private companies for the fourth year in a row. This was great news considering that the pandemic affected our business like it did many others.  This achievement underscores our commitment to offering custom refreshment solutions and elevating the customer experience at every turn.
Transforming break rooms into micro-markets in 2021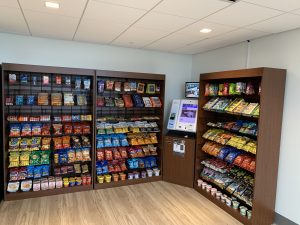 Talk about a busy year! We opened over 60 new micro-markets. Each Portland micro-market offers a wide variety of tasty snacks, delicious meals, and refreshing beverages. It's conveniently open for employees 24/7. Each market was customized to meet the needs of the client.  In addition, we remotely monitor the market to make sure that it is stocked with the products you want. We always get excited about transforming plain, unused break room spaces into cafes that employees can enjoy.
Our Goals
We celebrated our accomplishments throughout the year. More importantly, we recognized team members who put in the work. Likewise, we are also steadfast in setting and achieving our goals for next year.
Customers-first approach
A big focus in 2022 will be to prioritize the customer experience. No matter what we do, we're always thinking about how to put the customer first. We will be laser-focused on this effort next year. After all, if customers are apathetic towards your business, then it doesn't matter how good your products or services are. We'll be looking at new ways to bring a customer-first experience with our refreshment solutions.
Refreshment services expansion
We're always looking to grow our services. Specifically, we want to offer our micro-market and Portland office pantry services to more businesses. Our office pantry service offers employees convenient grab-and-go refreshments, including healthy options. In fact, many businesses can offer our office pantry service as a perk to make employees feel more welcome when they come back to the office next year.
Exploring new opportunities
We will expand our reach to provide break room solutions to more establishments in Portland and Southern Washington. For instance, we see an opportunity to offer refreshment services to car dealerships, apartment and condo buildings, fire stations, and more.
Looking forward to the new year
To sum up, we're excited about what the future will bring. And, we're focused on what we want to achieve in the coming year. Have a safe and fun holiday season!
For more information about our break room services, including micro-markets, office coffee services, vending, or national vending, please contact Royal ReFresh at (503) 704-9759 or info@royalvendingnw.com. We look forward to hearing from you.